Fall 2014 Digital Humanities workshops kick-off next next Monday with a workshop on the powerful open source data analysis program "R" and continue in October with a workshop on geospatial mapping for the digital humanities:
Monday, September 22: "R" for the Digital Humanities, a workshop led by Brian Reilly (Fordham University) (NEXT WEEK!)
1:00-2:30 pm | Rose Hill Campus, Keating 318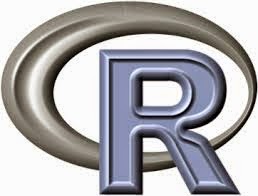 "R" is a free software environment for statistical computing and graphics. It runs on a wide variety of UNIX platforms, Windows and MacOS and has numerous uses in humanities computing including topic modeling, data mining, and data visualization. Don't miss this workshop if you're interested in the use of powerful data analytics in exploring humanities questions.
Brian J. Reilly is an Associate Professor in the Department of Modern Languages and Literature at Fordham University. His research includes medieval literature and science, while his teaching includes contemporary French and Francophone languages, literatures, and cultures. His digital humanities research includes work on authorship attribution through quantitative analysis.
Wednesday, October 29: "Spatial and Digital Mapping" David Wrisley (American University of Beirut) 
2:30-4:30pm | Rose Hill Campus, Keating 318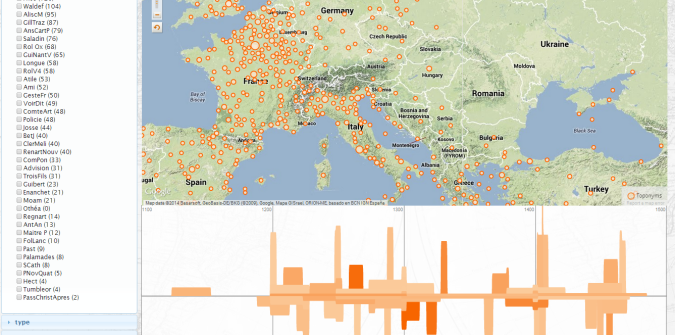 Faceted browsing and timeline in Visualizing Medieval Places
The model of spatiality embedded in our research affects the way we map information. Join us for a workshop with David Wrisley, co-led by Fordham's own David Levine, to explore tools and techniques of analysis using GIS and digital mapping. Discussed in particular will be questions of modeling and curation of a spatial dataset and the emergence of new mapping platforms.

David Joseph Wrisley is an Associate Professor in the Department of English and the Civilization Sequence Program at the American University of Beirut. His research is in medieval comparative literatures and digital humanities. He is interested in the history of translation and rewriting in particular at the fifteenth-century court of Burgundy. He is also interested in Mediterranean polysystems linking post-classical Arabic and medieval European literatures, as well as digital means for archiving and visualizing them. He is working on a project about space, place and time in medieval texts entitled Visualizing Medieval Places.

These programs have been organized by the Medieval Studies Program and co-sponsored by the Digital Humanities Working Group.