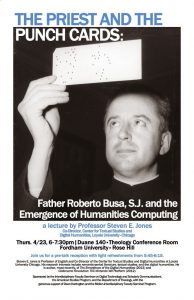 Fordham's Digital Humanities Group, along with the American Studies Program and the Department of Theology, are delighted to welcome Professor Steven E. Jones to discuss his fascinating new research on the legacy of Italian Jesuit and linguist Roberto Busa, SJ, who has come to be known as a founding father of digital humanities.
Busa's pathbreaking work on a digital concordance of the works of Thomas Aquinas was made possible by support he secured from IBM Founder Thomas Watson in the late 1940s. The Index Thomisticus is actively used by scholars today, and demonstrated the value of using new technologies in developing humanities scholarship and resources.
Steven E. Jones is Professor of English and Co-Director of the Center for Textual Studies and Digital Humanities at Loyola University Chicago. His research interests include romantic-period literature, textual studies, and the digital humanities. He is author, most recently, of The Emergence of the Digital Humanities (2013) and  Codename Revolution: The Nintendo Wii Platform (2012).
Join us for this lecture, which promises to explore the links between digital scholarship and the traditions of Jesuit inquiry!